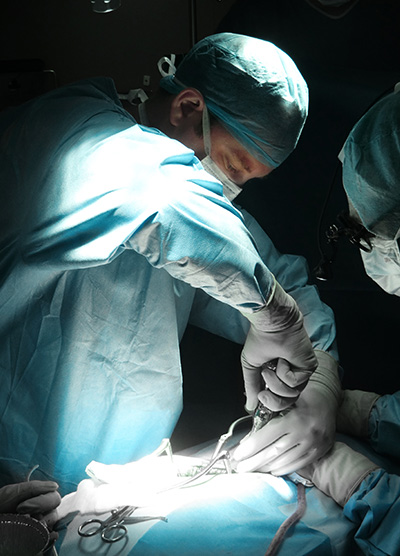 Accuracy of Pedicle Screw Placement remains a Critical Issue in Spine Surgery
Pedicle screw-based stabilization is the gold standard for treating spinal instabilities and deformities. Technological advancements such as Screws in the Thoracic Spine, Cortical Bone Trajectory and Minimally Invasive Surgery are compounding the importance of pedicle screw placement.
20% of pedicle screws have been reported as misplaced when using conventional techniques and around 5% when using navigation1-2.
Consequences of Misplaced Pedicle Screws are not to be Underestimated.
Neurological Complications and Revision Surgery
3.7% of the patients on average experience neurological symptoms after a spine surgery
(from 0% to 11%)3-16.
4.4% of the patients on average have a revision surgery to correct a misplaced screw
(range 1% to 11%)3-16.
2ndcause of reoperation within 30 days of spine surgery inpatients is due to neurological complications after posterior lumbar instrumentation and/or in trauma patients16.
$17,650
to
$27,768
additional cost for a revision surgery to correct misplaced screw
17-20
.
References
1 – Mason A et al. J Neurosurg Spine. 2014 Feb;20(2):196-203.
2 – Shin BJ et al. J Neurosurg Spine. 2012 Aug;17(2):113-22. Epub 2012 Jun 22.
3 – Amato V et al. J Neurosurg Spine. 2010 Mar;12(3):306-13.
4 – Amiot LP et al. Spine 2000 Mar 1;25(5):606-14.
5 – Waschke A et al. Eur Spine J. 2013 Mar;22(3):654-60.
6 – Sarlak A et al. Eur Spine J. 2009 Dec;18(12):1892-7. Epub 2009 Jun 14.
7 – Oh HS et al. Spine J. 2013 Dec;13(12):1751-7.
8 – Koktekir E et al. Spine J. 2014 Apr 3.
9 – Nevzati E et al. World Neurosurg. 2014 Jun 17.
10 – Kerry G et al. J Craniovert Jun Spine [serial online] 2014.
11 – Krauss M et al. Global Spine J. Dec 2014
12 – Du JY et al. Bone Joint Res. 2016 Feb;5(2):46-51.
13 – Verma SK, Singh PK, Agrawal D, Sinha S, Gupta D, Satyarthee GD, Sharma BS. O-arm with navigation versus C-arm: a review of screw placement over 3 years at a major trauma center. Br J Neurosurg. 2016 Dec;30(6):658-661. Epub 2016 Jul 25.
14 – Kaliya-Perumal AK et al. BMC Musculoskelet Disord. 2017 May 30;18(1):229.
15 – Fichtner et al. World neurosurgery. September 2017.
16 – Shimizu T et al. Eur Spine J. 2015 Jul 14.
17 – Hodges SD et al. Orthopedics. 2012 Aug 1;35(8):e1221-4.
18 – Watkins RG et al. Open Orthop J. 2010 Aug 6;4:228-33.
19 – Sanborn MR et al.. Neurosurg Focus. 2012 Jul;33(1):E12
20 – Dea N et al. The Spine Journal. Published Online: October 06, 2015
For any request, don't hesitate to contact us